Les Secrets de Clarisse - Bordeaux Red wine AOC - Without sulfites added - Natural wine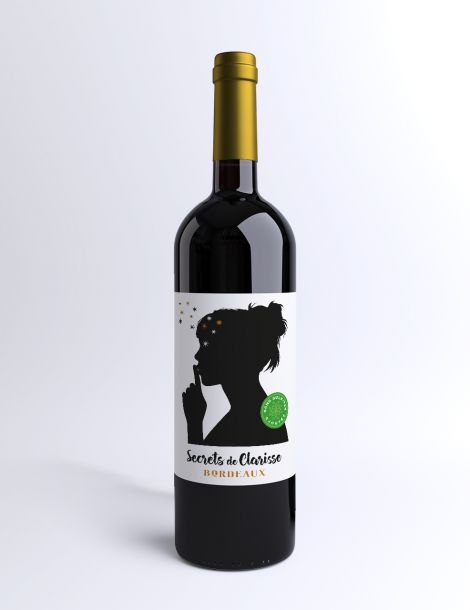 SECRETS DE CLARISSE 2020
APPELLATION : RED BORDEAUX AOC
GRAPE VARIETY : 99% Merlot 1% Cabernet Sauvignon
AGEING: Steel Tanks .
TASTING NOTE: . His unoaked Red Bordeaux wine has no added sulphites. It is made with utmost care in an inert atmosphere with exceptionally healthy grapes of which we only use the "core". The special care taken in the vineyard and the meticulous winemaking in the winery justify its rating as a Natural Wine
ALCOHOL DEGREE : 13% vol
AVAILABLE VINTAGE: 2020 (Gold Medal Lyon Contest, Silver Medal Bordeaux Contest and Bronze Medal Macon Contest )
Colmated Corks
Aluminium caps
Labels and Back Labels
Carboard export x6 or x 12 bottles
Wooden cases available on demand.
Paletts 80×120 600 Bottles or 100×120 : 840 Paletts
All our Paletts ar NIMP15 treatment certified
CIF Quote available . We ship all over the world
Contact me before order !
Products Price are always Exclusive Tax. Taxes are applicable at the checkout, only if the Seller's Company is in the same Country of your Company
Currency accepted by the Seller
Currencies
EUR (€) , USD ($)
Goods will be shipped in 3-4 weeks
Shipping cost will be calculated after adding the product in your cart if the incoterm choosen by the seller is different than EXW
Additional information
| | |
| --- | --- |
| Available to ship in : | Andorra, Argentina, Armenia, Australia, Austria, Azerbaijan, Bahrein, Belgium, Benin, Bhutan, Bonaire, Sint Eustatius, Saba, Brazil, British Indian Ocean territory, Bulgaria, Cameroon, Canada, Cap-Vert, Chile, Christmas Island, Comoros, Costa Rica, Croatia, Curaçao, Cyprus, Czech Republic, Denmark, Djibouti, Dominica, Dominican Republic, Estonia, Falkland Islands, Faroe Islands, Fiji, Finland, France, French Guiana, French Polynesia, Georgia, Germany, Gibraltar, Greece, Guadeloupe, Holy See (the), Honduras, Hong Kong, Hungary, Iceland, India, Ireland, Israel, Italy, Japan, Jordan, Kenya, Kiribati, Korea (The Republic of), Latvia, Lesotho, Liechtenstein, Lithuania, Luxembourg, Madagascar, Malawi, Malaysia, Malta, Man (Isle of), Martinique, Mauritius, Mayotte, Mexico, Moldova, Monaco, Morocco, Netherlands, New Caledonia, New Zealand, North Macedonia, Norway, Oman, Paraguay, Peru, Poland, Portugal, Puerto Rico, Qatar, Réunion, Romania, Rwanda, Saint Barthélemy, Saint Helen's Island, Saint Martin, Saint Pierre and Miquelon, Salvador, San Marino, Saudi Arabia, Singapore, Slovakia, Slovenia, Solomon Islands, South Africa, Spain, Suriname, Swaziland, Sweden, Swiss, Taiwan, Tanzania, Thailand, Timor-Leste, Togo, Tonga, Turkey, United Arab Emirates, United Kindgon, United States of America, Uruguay, Vietnam, Wallis and Futuna |
| Certificate(s) : | |
| Quality Control : | |
| Supplier Country : | |
| Term of Payment : | Immediate Payment on the required documents (Bill of Lading, contract…) |
Les Secrets de Clarisse - Bordeaux Red wine AOC - Without sulfites added - Natural wine